Custom Garage doors in new, recycled, or reclaimed woods.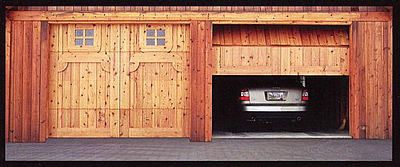 Standard Wood:
Cedar ˇ Fir ˇ Redwood ˇ Alder
Specialty Woods
Mahogany ˇ Oak ˇ Pine ˇ Cherry ˇ
Others Upon Request
*Some wood is better suited for interior applications.
*Up charges occur with specialty woods and are limited by market availability.
Recycled or Reclaimed Wood: Wood with a story
These woods truly do have a fine résumé. Pine and Douglas Fir from a dismantled, 100 year old Southern Pacific Railroad Trestle weathered years over the Great Salt Lake, gaining charm and keeping its hardy nature.
Beams and ramps used to store and move barrels of whiskey from the original Seagram's distillery make you wish they could tell half of what they've heard through the century.
Reclaimed Woods such as, Recycled Snow Fence from Wyoming; Authentic Recycled Barn wood from the Paradise Valley, Montana; Recycled; Heinz Pickle Barrel 'Pickle Vat Wood'. From old Milwaukee Railroad stockyard fences, to 80-year-old Montana hay barns, and the remnants of an old stagecoach stop out of Deer Lodge, Montana.
These woods can't be duplicated for what they add to Montana Rustics' functional garage doors.
*Up charges occur with recycled woods and are limited by market availability.
A note about Nature's Art
Wood has the power to blend and complement a home's natural surroundings. By using old materials & recycled products the character of the wood and design only deepen. Get inspired! Part of nature's art is that each individual tree and or course board will vary from the next. Weep holes and variations in the grain and color etc. are part of the uniqueness and beauty of a custom wood garage door. Only the artificial materials have uniformity. So embrace the authentic and with it, the unique qualities of your door from any other door, as we will not warranty such variations in wood.